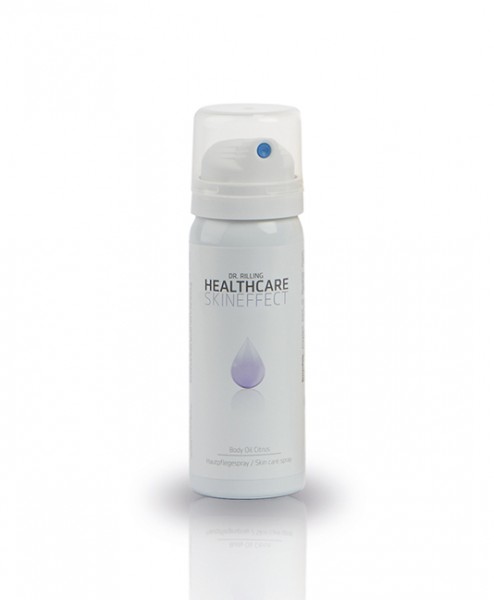 Silica Skineffect Skin Spray (50 ml)
Order number:
SiliciumSpray
Inhaltsstoffe
Cosmetic spray and body lotion with MCT-Oil (vegetable oil), almond oil, orange oil, Vitamin E and Silica
50 ml
For external use on skin
Supports formation of collagen and elastin
Area of application
for various skin diseases
for accelerated wound healing and regeneration of sunburns
for connective tissue weaknesses (cellulite)
Referenzen
Tanja S.: "Das Spray benutze ich seit einiger Zeit, seitdem hat sich meine Haut extrem verjüngt. Bei den Kindern nehme ich es als zuverlässigen Schutz gegen Zecken und andere Stechmücken sowie Sonnenbrand. Echt Klasse und riecht sehr angenehm."
Monica M.: "Seit ca. einen Jahr habe ich an der rechten Hand eine offene und spröde Haut sowie geschwollene Fingergelenke. Verschiedene Therapien sowie Salben haben mir nicht geholfen. Durch die Benutzung von "multiblanc" (2x täglich, heutiger Name Silicium Skineffect) sowie die Einnahme von "Silicium Prime" hat sich der Haut- und Fingergelenkzustand innerhalb von einer Wochen wesentlich verbessert und nach ca. zwei Wochen waren die Symptome ganz verschwunden/geheilt."
Frank S.: "Durch den Einsatz des Silicium Sprays (2x innerhalb von drei Tagen) hat sich die spröde Haut an den Fersen und am Knöcheln sofort verbessert."
Silica Skineffect Skin Spray (50 ml)
The potential of silica has long been underestimated by physicians and nutritionists. Meanwhile, the doctrine has changed dramatically. Silica is one of the most essential trace elements today. Especially because of its healing and calming effect. Silica promotes the formation of collagen and elastin and thus provides strength and elasticity of the connective tissue.
Experience reports and according to scientific research, the use of silica leads to amelioration of various skin problems such as itching, eczema, skin abrasions, eczema, scalds and burns (including sunburn) or insect bites. " Dr. Rilling Healthcare products thus contribute to faster and better tissue regeneration.
Cosmetic product and body lotion based on MCT oil (vegetable oil), almond oil, orange oil, vitamin E and silica on a liquid basis::
A product for external application and supplementation of silica uptake for the whole family.
Content:
50 ml
Dosage:
Shake before use. Spray sparingly on the skin from approx. 5-10cm away and rub in evenly. The mild spray is suitable for all skin types and can be used several times a day.
Ingredients:
Amygdalus Dulcis oil (almond oil)
MCT oil (vegetable oil)
Silicadioxide
Tocopherol (vitamin E)
Orange oil

Durability:
Store cool and dry. Shelf life 24 months, starting to consume within 6 months
---
Silica:
✓ Traditionally used to strengthen skin and connective tissue
✓ Counteracts brittle hair and nails
✓ Initial studies allow conclusions to be drawn on the major significance of silica in bone metabolism
✓ Intended to have a favorable effect on the elimination of aluminum and avoidance of aluminum accumulation in the body
Benefit from the advantages of the SAM technology
✓ Optimal availability
✓ Supply to deep regions of the intestines
✓ Pure raw materials
We use only the purest pharmaceutical- or food-grade raw materials. Production and filling take place exclusively in Germany.
Warning:
Keep out of reach of small children. Container is under pressure (propane / butane gas mixture). Protect from sunlight and temperatures above 50 ° C. Do not crack open or set fire to after using. Do not spray on burning objects or flames. Keep away from children, do not spray in the eyes or on irritated skin.