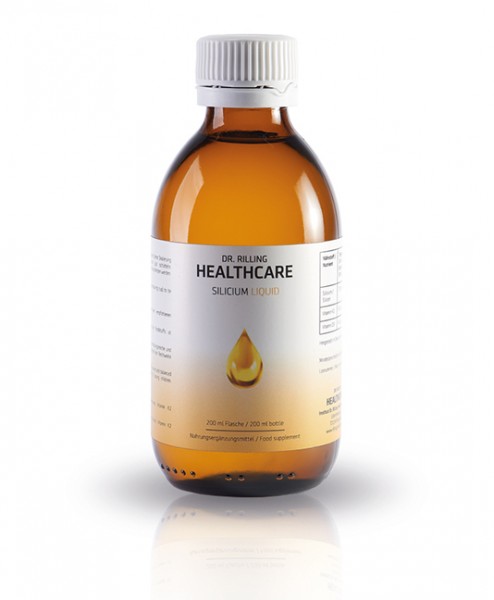 Order number:
SiliciumLiquid
Inhaltsstoffe
Nutritional supplement with MCT-Oil (vegetable oil), Vitamin K2 and Vitamin D3
200 ml
5 ml (recommended daily dosage)
Aluminum-free
Vegetarian
Area of application
For periods of increased exertion during work or while playing sports
As support for or as prevention of decreased bone stability (for example, osteoporosis)
Decreased performance and endurance
Weakness of the connective tissue (cellulite)
Thin hair and brittle nails
Referenzen
Klaus T.: Wir setzen das Silizium Liquid im Moment mit Erfolg bei akuten Haut- und Schleimhauterkrankungen ein. Z. B. Hustenerkrankungen bei Sommergrippe, chron. Bronchitis mit akuter Exacerbation, nach Antibiose-Therapie für den Darm und sein Immunsystem, bei Kopfschmerzen durch Anstrengung, bei Überlastung im ganzen vegetativen System durch körperliche und stressbedingten Beschwerden. Es gibt nach der Gabe von den 5 ml innerhalb von Minuten oft Entlastungen im Körper, die spürbar und mit unseren energetischen Methoden messbar sind. Das finde ich natürlich klasse.
Daniela W.: "Ich nehme das Silicium Liquid nun seit 5 Monaten. Seit dem ist mein Haarausfall viel besser geworden und die Haare sind allgemein dicker und voller. Auch meine Hautbild hat sich seitdem deutlich gebessert."
Silicium Liquid (200 ml)
Supplement based on MCT-Oil (vegetable oil), silicon, Vitamin K2 and Vitamin D3 in liquid form:
A balanced product for the permanent supplement of MCT-Oil (vegetable oil), silicon, Vitamin K2 and Vitamin D3 intake for the whole family.
Content:
200 ml
Dosage:
Take 5 ml a day during meals. The recommend daily intake of a maximum of 5 ml must not be exceeded.
Ingredients:
MCT Oil (vegetable oil)
Silica
Vitamin K2
Vitamin D3
Ingredients according to the Sewing Labeling Regulation at the recommended daily dose of 5 ml (RDA):

| | | |
| --- | --- | --- |
| Nutrient | per 5 ml (daily dose) | % of rec. Daily dose per 5 ml |
| Silica | 70,0 mg | No recommendation available |
| Vitamin K2 | 75 µg | 100 % |
| Vitamin D3 | 20 µg / 800 IE | 400 % |

Durability:
Store cool and dry. Consume within 12 months (see date of minimum durability).
General information about dietary supplements:
Nutritional supplements are not a substitute for a balanced and varied diet, as well as a healthy lifestyle. Keep out of reach of small children.
---
Silica:
✓ Traditionally used to strengthen skin and connective tissue
✓ Counteracts brittle hair and nails
✓ Initial studies allow conclusions to be drawn on the major significance of silica in bone metabolism
✓ Intended to have a favorable effect on the elimination of aluminum and avoidance of aluminum accumulation in the body
Vitamin D:
✓ contributes to normal absorption / utilization of calcium and phosphorus
✓ contributes to the maintenance of normal bones
✓ contributes to a normal function of the immune system
Vitamin K:
✓ contributes to the maintenance of normal bones
✓ contributes to normal blood clotting
Benefit from the advantages of the SAM technology
✓ Optimal availability
✓ Supply to deep regions of the intestines
✓ Pure raw materials
We use only the purest pharmaceutical- or food-grade raw materials. Production and filling take place exclusively in Germany.
Our products are free of aluminum.
Note: Nutritional supplements do not replace a varied and balanced diet and a healthy lifestyle. Store out of the reach of young children.