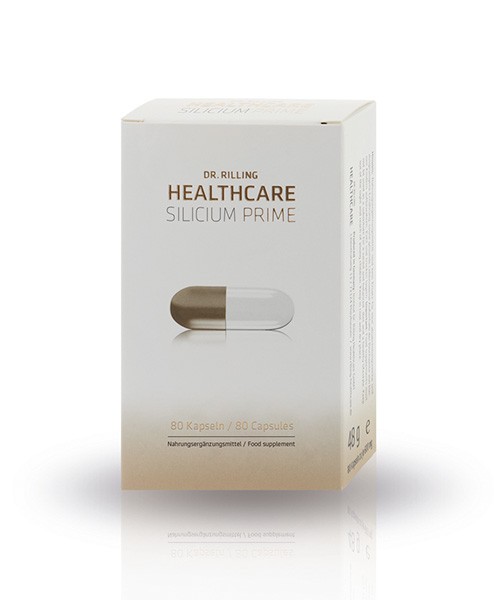 Silicium Prime (80 capsules)
Order number:
SiliciumPrime80
Inhaltsstoffe
Nutritional supplement with calcium, magnesium, silica, vitamin K2 and vitamin D3
80 capsules
3 capsules (recommended daily dosage)
Aluminum-free
Vegetarian
Area of application
For periods of increased exertion during work or while playing sports
As support for or as prevention of decreased bone stability (for example, osteoporosis)
Decreased performance and endurance
Weakness of the connective tissue (cellulite)
Thin hair and brittle nails
Referenzen
Martina G.: "Mit der Einnahme von den Silicium Prime Kapseln habe ich am 01.03.2019 begonnen. Einnahme in den ersten 2 Wochen: 3 x täglich 1 Kapsel nach den Mahlzeiten. 3. Woche: Ich hatte einen Darminfekt und habe die Einnahme unterbrochen, da ich der Meinung war, dass das Silicium in dieser Zeit nicht vom Körper aufgenommen werden kann, da ich auch so gut wie keine Nahrung zu mir nehmen konnte. 4. – 7 Woche: 3 x täglich 1 Kapsel nach den Mahlzeite. 8. Woche: 2 x täglich 1 Kapsel nach dem Frühstück und nach dem Abendessen. In der ersten Woche meiner Einnahme war ich beim Friseur und habe meiner Friseuse von den Silicium Prime erzählt, auch dass ich nun für einige Zeit diese Kur machen würde und Sie sagte, dass Sie gespannt wäre ob sich etwas ändert. In der 6. Woche meiner Einnahme war ich wieder beim Friseur und meine Friseuse war der Meinung, dass sich meine Haare besser anfühlen und vor allem auch besser frisieren lassen. Ich selbst bin Überzeugt, dass eine Änderung bzw. Verbesserung stattgefunden hat, dass sich meine Haare besser Föhnen lassen als vorher und dass die Frisur besser und vor allem länger hält. Selbst im Büro haben meine Kollegen eine Änderung bemerkt und fragten wie oft ich denn Zum Friseur gehen würde… obwohl ich mir nur selbst die Haare gewaschen habe.
Fazit:
Ich bin der Meinung, dass sich etwas geändert hat und ich kann sehen dass immer mehr Kurze Haare nachwachsen … mehr als vor der Einnahme. Ich werde die Kur auf alle Fälle weiter machen, denn diese 8 Wochen haben mit gezeigt, dass ein Silicium Mangel vorliegen kann."
Dietmar K.: "Super Produkt gut verpackt, lange haltbar und Preis- Leistung top. Ich nehme es seit 1 1/2 Jahren wegen Morbus Crohn und Fisteln an der Darmwand und seit ich es einnehme musste ich nicht mehr operiert werden. Hatte insgesamt 5 Drainagen und bin alle losgeworden ohne Künstlichen Darmausgang oder weitere OP. Perfekt!"
Monica M.: "Seit ca. einen Jahr habe ich an der rechten Hand eine offene und spröde Haut sowie geschwollene Fingergelenke. Verschiedene Therapien sowie Salben haben mir nicht geholfen. Durch die Benutzung von "multiblanc" (2x täglich, heutiger Name Silicium Skineffect) sowie die Einnahme von "Silicium Prime" hat sich der Haut- und Fingergelenkzustand innerhalb von einer Wochen wesentlich verbessert und nach ca. zwei Wochen waren die Symptome ganz verschwunden/geheilt."
Alexander S.: " Das Silizium von Rilling ist tatsächlich sehr sehr hilfreich, denn gerade Silizium-Mangel ist oft unerkannt und damit auch unbehandelt. Es wird toll aufgenommen und man spürt den Effekt, sehr gute Qualität.
Silicium Prime (80 capsules)
Alkaline supplements based on calcium, magnesium and silicon in capsule form:
A balanced product for the permanent supplement of calcium, magnesium and silicon intake for the whole family.
Content:
80 capsules of 600 mg per capsule
Dosage:
Take one capsule 3 times a day with enough fluid during meals. The recommended daily intake of a maximum of 3 capsules must not be exceeded.
If you weigh less than 40 kg, take a maximum of one capsule per day..
Ingredients:
calcium carbonate
magnesium carbonate
vitamin K2
vitamin D3
vegetable oil
silica
hydroxypropylmethylcellulose
Ingredients according to the Sewing Labeling Regulation at the recommended daily dose of 3 capsules (RDA):

| | | |
| --- | --- | --- |
| Nutrient | per 3 capsules (daily dose) | % of rec. Daily dose per 3 capsules |
| Calcium | 305,0 mg | 40 % |
| Magnesium | 90,0 mg | 24 % |
| Vitamin D3 | 20,0 µg/800IE | 400% |
| Vitamin K2 | 75,0 µg | 100% |
| Silica | 56,0 mg | * |
*No recommendation available
Durability:
Store cool and dry. Consume within 12 months (see date of minimum durability).
General information about dietary supplements:
Nutritional supplements are not a substitute for a balanced and varied diet, as well as a healthy lifestyle. Keep out of reach of small children.
---
Calcium:
✓ Contributes to normal blood clotting
✓ Contributes to normal energy metabolism
✓ Contributes to normal muscle function
✓ Is needed to preserve normal bones
Magnesium:
✓ Helps reduce fatigue and exhaustion
✓ Helps balance electrolytes
✓ Contributes to normal energy metabolism
Silica:
✓ Traditionally used to strengthen skin and connective tissue
✓ Counteracts brittle hair and nails
✓ Initial studies allow conclusions to be drawn on the major significance of silica in bone metabolism
✓ Intended to have a favorable effect on the elimination of aluminum and avoidance of aluminum accumulation in the body
Benefit from the advantages of the SAM technology
✓ Optimal availability
✓ Supply to deep regions of the intestines
✓ Pure raw materials
We use only the purest pharmaceutical- or food-grade raw materials. Production and filling take place exclusively in Germany.
Our products are free of aluminum.
Note: Nutritional supplements do not replace a varied and balanced diet and a healthy lifestyle. Store out of the reach of young children.