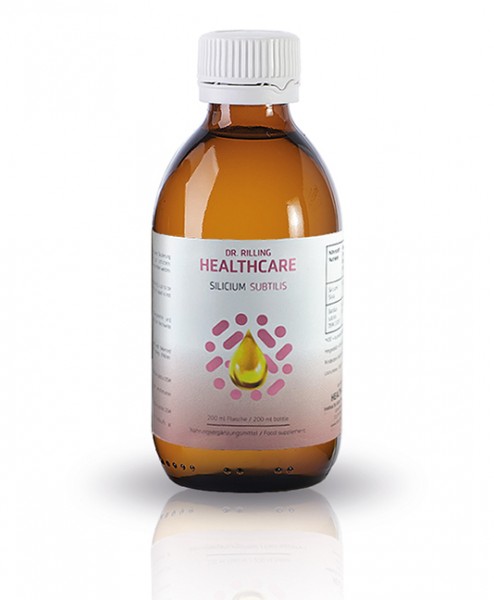 Silicium Subtilis (200 ml)
Order number:
SiliciumSubtilis
Inhaltsstoffe
Nutritional supplement with MCT-Oil (vegetable oil), Silica and Bacillus subtilis DSM21097
200 ml
5 ml (recommended daily dosage)
Aluminum-free
Vegan
Area of application
to maintain and regulate a healthy intestinal flora
to maintain the silica level
with increased stress at work or during sport
with reduced performance and endurance
for weak connective tissue (cellulite)
Silicium Subtilis (200 ml)
Mineral nutritional supplement based on MCT-Oil (vegetable oil), silica and Bacillus subtilis DSM21097 on a liquid basis.:
A balanced product to permanently supplement the silica intake and to maintain the natural intestinal flora with double the dose and as usual bioavailable for the whole family.
Content:
200 ml
Dosage:
Take 5 ml a day during meals. The recommend daily intake of a maximum of 5 ml must not be exceeded.
Ingredients:
MCT Oil (vegetable oil)
Silica dioxide
Bacillus subtilis DSM21097
Ingredients according to the Sewing Labeling Regulation at the recommended daily dose of 5 ml (RDA):

| | | |
| --- | --- | --- |
| Nutrient | per 5 ml (daily dose) | % of rec. Daily dose per 5 ml |
| Silica | 140,0 mg | No recommendation available |
| Bacillus subtilis DSM 21097 | 6,5x 10⁷ KBE* | No recommendation available |
*KBE = colony-forming units

Durability:
Store cool and dry. Consume within 12 months (see date of minimum durability).
General information about dietary supplements:
Nutritional supplements are not a substitute for a balanced and varied diet, as well as a healthy lifestyle. Keep out of reach of small children.
---
Bacillus subtilis:
The Bacillus Subtilis (DSM 21097) is an exogenous bacterium from Russian research.
The combination of silica and Bacillus subtilis is unique and a patent have been raised. It has been found in numerous experiments that the spread of the probiotic bacterium multiplies billions of times. This means that the Bacillus subtilis needs silica in order to be able reproduce.
This has several advantages, the pathogenic agents are already displaced in the oral mucosa and through the entire gastrointestinal tract.
Numerous studies have shown that probiotics can stabilize physiological blood values (cholesterol, triglycerides, blood sugar, etc.).
Another positive effect of probiotic cultures, which has been proven by numerous scientific studies, is the breakdown of carbohydrates and fats. This is based i.a. on the formation of various digestive enzymes (e.g. amylase, proteases, lipases) by probiotic microorganisms. Important nutrients such as vitamins and amino acids are also produced by these. These properties are also used in diets and to increase athletic performance.
The spectrum of probiotic microorganisms is constantly expanding. In recent years, among others, various Bacillus subtilis strains. This bacterium has numerous positive properties that distinguish it from "traditional" probiotic cultures (e.g. lactic acid bacteria, yeasts) and make it particularly interesting for use in the human organism.
In contrast to many other probiotics, the Bacillus subtilis strains survive as acid-stable spores (persistent forms of vegetative bacteria), the gastric passage and thus enter the intestine without major losses. In this the vegetative forms of the bacterium develop from the spores. These are characterized by an active metabolism.
In the intestine, they stimulate with their metabolic products, among other things. the "intestinal-associated lymphatic tissue" located in the intestinal wall and important for the immunity of the organism. This leads to a significant increase in the antibody concentration on the mucous membranes of various organ systems (intestines, respiratory tract, etc.) and can thus contribute to improving the general defense against infection of the entire organism.
Despite the fact that Bacillus subtilis is not a "normal" intestinal inhabitant, it does not disturb the balance of the intestinal flora. It develops a synergistic relationship with the body's own intestinal flora (bifidobacteria, lactobacilli, etc.), stabilizes them and can thus contribute to the normalization of bowel activity.
The smooth functioning of the digestive system not least has a direct positive influence on our psyche, our well-being and our quality of life!
Silica:
✓ Traditionally used to strengthen skin and connective tissue
✓ Counteracts brittle hair and nails
✓ Initial studies allow conclusions to be drawn on the major significance of silica in bone metabolism
✓ Intended to have a favorable effect on the elimination of aluminum and avoidance of aluminum accumulation in the body
Benefit from the advantages of the SAM technology
✓ Optimal availability
✓ Supply to deep regions of the intestines
✓ Pure raw materials
We use only the purest pharmaceutical- or food-grade raw materials. Production and filling take place exclusively in Germany.
Our products are free of aluminum.
Note: Nutritional supplements do not replace a varied and balanced diet and a healthy lifestyle. Store out of the reach of young children.