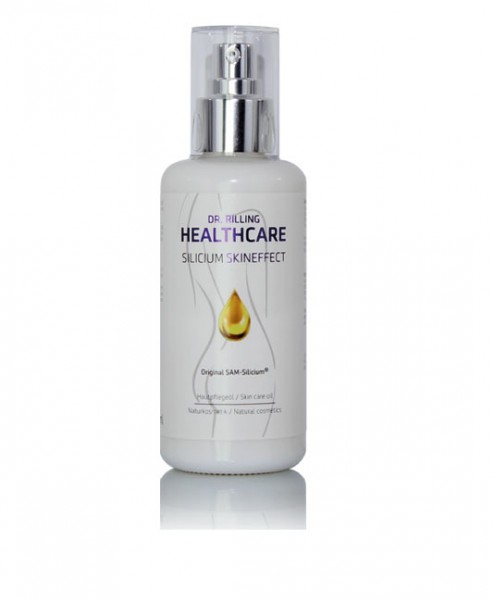 Order number:
SiliciumOil
Inhaltsstoffe
skin care oil with MCT oil (from coconut), almond oil, orange oil, vitamin E and silica
contents: 150 ml
for external application on the skin
promotes the formation of collagen and elastin
Area of application
for various skin problems
for accelerated sunburn regeneration
for connective tissue weakness (cellulite)
Referenzen
Jan F.: "Silicium Pure has been used in our whole family for months. By taking it, we could make different experiences. For example, my wife's skin appearance has improved significantly; after just a few days, her skin became noticeably firmer and smoother (she also takes the Body Oil). I myself am much fitter since taking the product and my performance in sports (gym, jogging) has increased significantly. We are very satisfied with the experience so far!"
SKINEFFECT skin care oil
The potential of silica was long underestimated by physicians and nutritionists. In the meantime, the doctrine has changed seriously. Today, silica is one of the essential trace elements. Especially also because of its calming effect. Silica promotes the formation of collagen and elastin and thus ensures firmness and elasticity of the connective tissue. According to experience reports and scientific research, the application of silicon leads to an improvement of various skin problems such as itching, eczema, skin abrasions, scalds and burns (also sunburn) or stings. Dr. Rilling Healthcare products thus contribute to faster and better tissue regeneration.
Natural cosmetic product and skin care oil based on MCT oil, almond oil, vitamin E and silica on a liquid basis:
A product for external use and supplementation of silica intake for the whole family.
Content:
150 ml
Dosage:
Shake before use. Apply sparingly to the skin and rub in evenly. The mild oil is suitable for all skin types and can be used several times a day.
Ingredients:
Amygdalus Dulcis Oil (Almond Oil).
MCT oil
Silica dioxide
Tocopherol (Vitamin E)
Orange oil
Shelf life:
Store in a cool and dry place. Shelf life 24 months, use within 6 months after opening.
---
Skineffect skin care oil with silica:
✓ is traditionally used to strengthen the skin and connective tissue.
✓ against brittle hair and nails
Benefit from the advantages of SAM technology
✓ optimal availability
✓ supply right into deep skin regions
✓ pure raw materials
We use only the purest raw materials in pharmaceutical or food quality. The production and filling takes place exclusively in Germany.
Warnings:
Keep out of reach of small children.
Protect from sunlight and temperatures above 50°C. Do not open by force or burn even after use. Keep away from children, do not spray in eyes or on irritated skin.