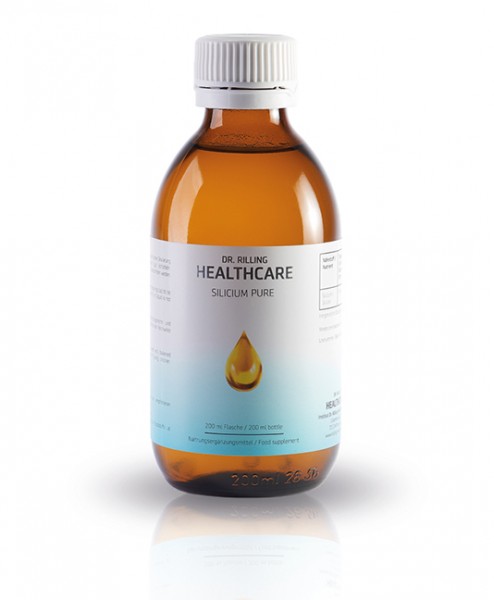 Order number:
SiliciumPure
Inhaltsstoffe
nutritional supplement with MCT oil (vegetable oil) and silica
200 ml
5 ml (recommended daily dosage)
aluminum-free
vegan
Area of application
for periods of increased exertion during work or while playing sports
as support for or as prevention of decreased bone stability (for example, osteoporosis)
decreased performance and endurance
weakness of the connective tissue (cellulite)
thin hair and brittle nails
Referenzen
Jan F.: "Silicium Pure has been used in our whole family for months. By taking it, we could make different experiences. For example, my wife's skin appearance has improved significantly; after just a few days, her skin became noticeably firmer and smoother (she also takes the Body Oil). I myself am much fitter since taking the product and my performance in sports (gym, jogging) has increased significantly. We are very satisfied with the experience so far!"

This customer opinion is not representative. It represents the individual experience of individual users. We can neither confirm nor deny them. We do not adopt these statements as our own, but we do not want to exercise censorship and thus allow positive and negative reports here.
SILICIUM PURE (200 ml)
Supplement based on MCT oil (vegetable oil) and silica in liquid form:
A balanced product for the permanent supplement of MCT oil (vegetable oil) and silica intake for the whole family.
Content:
200 ml
Dosage:
Take 5 ml a day during meals. The recommend daily intake of a maximum of 5 ml must not be exceeded.
Ingredients:
MCT oil (vegetable oil)
Silica
Ingredients according to the Sewing Labeling Regulation at the recommended daily dose of 5 ml (RDA):

| | | |
| --- | --- | --- |
| Nutrient | per 5 ml (daily dose) | % of rec. Daily dose per 5 ml |
| Silica | 140,0 mg | No recommendation available |

Durability:
Store cool and dry. Consume within 12 months (see date of minimum durability).
General information about dietary supplements:
Nutritional supplements are not a substitute for a balanced and varied diet, as well as a healthy lifestyle. Keep out of reach of small children.
---
Silica:
✓ traditionally used to strengthen skin and connective tissue
✓ counteracts brittle hair and nails
✓ initial studies allow conclusions to be drawn on the major
significance of silica in bone metabolism
✓ intended to have a favorable effect on the elimination of
aluminum and avoidance of aluminum accumulation in the body
Benefit from the advantages of the SAM technology
✓ optimal availability
✓ supply to deep regions of the intestines
✓ pure raw materials
We use only the purest pharmaceutical- or food-grade raw materials. Production and filling take place exclusively in Germany.
Our products are free of aluminum.
Note: Nutritional supplements do not replace a varied and balanced diet and a healthy lifestyle. Store out of the reach of young children.